In the past few years, the popular choices for wood floor colors have landed on far sides of the spectrum—homeowners have been choosing either very dark (even black!) floors or opting for blonde or white wood flooring.
If you've got less extreme tastes and want to land more in the middle of the spectrum, the newest trend in wood floors is here to make your dreams come true—gray wood floors.
Trend Report: 4 Things You Have to Know About Gray Floors
Gray wood floors are the most modern flooring choices you can have in your home that will continue to be beautiful in the years to come.
If you're in the market for new wood floors, you have plenty of options of wood type and color range to find the gray that works for you and your home.
If you still have great wood floors but need a change, you always have the option of staining your current floors gray.
But before you make such a big change, check out our quick guide on everything you need to know about gray wood floors.
The new neutral
Whether you want a more modern, formal feeling in your home or are aiming for a fresh, casual vibe in your space, gray can work for you.
It is an understated, sophisticated option that will play off of the furniture and wall color in the room to create whatever vibe you are going for.
You don't have to totally redecorate your house to make gray wood floors work for you. Gray is the new neutral. It doesn't matter if you have light walls and furniture or deeper paint and darker furniture. Rather than overwhelming the interior design, gray floors are a subtle, versatile choice. They work with whatever design scheme you already have in place, simply making it more modern and sleek.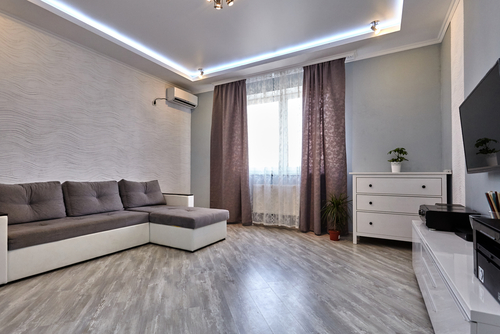 2. Makes your space look bigger
Like other trends in wood flooring—white floors and wider planks, mostly—gray wood makes any space look and feel more spacious.
Lighter grays especially have this effect because they make a space look brighter and bigger. So if you have a small space but want a more open feel, gray is the way to go.
3. Not quite 50 shades, but…
There isn't just one type of gray, or one shade of gray floors. We might not be talking 50 different shades, but there is definitely a hue out there to suit your taste and your home's color scheme.
By choosing different undertones for your gray wood floors, you can create completely different looks for your room.
If you go with a warm undertone like yellow or brown, you can create a more neutral, subtle look. Meanwhile, darker, cooler shades of gray with prominent dark or blue undertones create a sleeker, more serene look.
4. Good for high traffic areas
Sleek, trendy, modern AND functional?! You may say it's not possible, but gray wood is here to prove you wrong.
Despite being modern and fresh, gray is also a great practical choice—especially if you choose a darker tone of gray. It's great for big families, houses with pets, and high-traffic areas because it shows wear-and-tear much less than a lighter shade.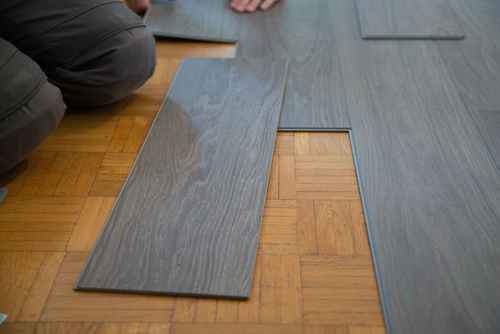 Wood Floors Are Going Gray for Good
Gray floors are not just for the super-trendy. They are a beautiful, modern choice that can work in so many spaces and for so many designs. So don't be afraid of the new gray floor trend, because it's here to stay!
If you have any questions please contact us at 401-241-3966 or email us at info (at) acewoodfloors.wpengine.com. We answer the phone!